Description
According to Chelsea's manufacturing logbook, this 10" Marine Mechanical Clock was sold to Westinghouse Electric Manufacturing Company on October 13, 1904. Housed in a solid forged brass case with hinged, key-locking bezel, this rare time-only clock features its original red brass finish and hand-silvered dial. Boasting black Roman numerals and black hands, it also features a small seconds orbit, and a "Fast - Slow" regulator. The E movement has been completely overhauled, and the case, dial, and glass have been cleaned. Chelsea Clock official serial number: 15662
Item: VR170
Details
FEATURES
Two-Year Warranty
Mechanical Movement
10" Dial
Dimensions: 12.5" Dia. X 3 1/4" D
Weight: 14 lbs.
Free Shipping

Finish:

Brass

Bezel:

Hinge

Movement:

Mechanical
Warranty
COMPLIMENTARY TWO YEAR WARRANTY
All new Chelsea Clock is warranted against defects in material and workmanship for two years from the date of original purchase. Once you purchase, please be sure to register for your product warranty here. LEARN MORE >
According to Chelsea's manufacturing logbook, this 10" Marine Mechanical Clock was sold to Westinghouse Electric Manufacturing Company on October 13, 1904. Housed in a solid forged brass case with hinged, key-locking bezel, this rare time-only clock features its original red brass finish and hand-silvered dial. Boasting black Roman numerals and black hands, it also features a small seconds orbit, and a "Fast - Slow" regulator. The E movement has been completely overhauled, and the case, dial, and glass have been cleaned. Chelsea Clock official serial number: 15662
Item: VR170
FEATURES
Two-Year Warranty
Mechanical Movement
10" Dial
Dimensions: 12.5" Dia. X 3 1/4" D
Weight: 14 lbs.
Free Shipping

Finish:

Brass

Bezel:

Hinge

Movement:

Mechanical
COMPLIMENTARY TWO YEAR WARRANTY
All new Chelsea Clock is warranted against defects in material and workmanship for two years from the date of original purchase. Once you purchase, please be sure to register for your product warranty here. LEARN MORE >
world-renowned
Craftsmanship
The Chelsea Ship's Bell, and many other Chelsea's clocks and Barometers, are crafted from rugged forged brass cases which are then hand polished and lacquered to last generations.
Learn More >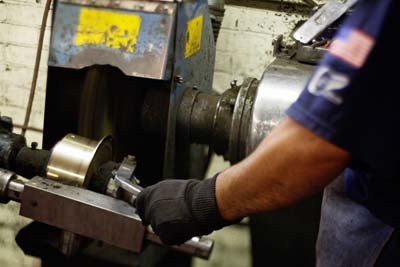 Chelsea History
The Best Since 1896
Pair large text with an image to tell a story, explain a detail about your product, or describe a new promotion.
Learn More >
★★★★★

"I just opened my father's brand new Chelsea boardroom clock and WOW! It is absolutely exquisite. The engraving is beautiful and the clock itself is a work of art."

Haley C.
★★★★★

"I was thrilled to discover that Chelsea Clock Company is still in business making and servicing their clocks for over 120 years. I was able to have my 1906 Ship's Bell clock's movement cleaned and a new coat of lacquer applied to the brass case. The craftsmanship is exemplary, suitable for something you'd expect to see on display in a museum collection."

Bill M.
★★★★★

"I recently ordered 2 clocks with engravings as leaving presents for 2 colleagues. The office was excellent in working with us in formatting the text to fit the clocks, and accommodating our short timeline. The clocks looked beautiful and loved by the recipients."

A.T.