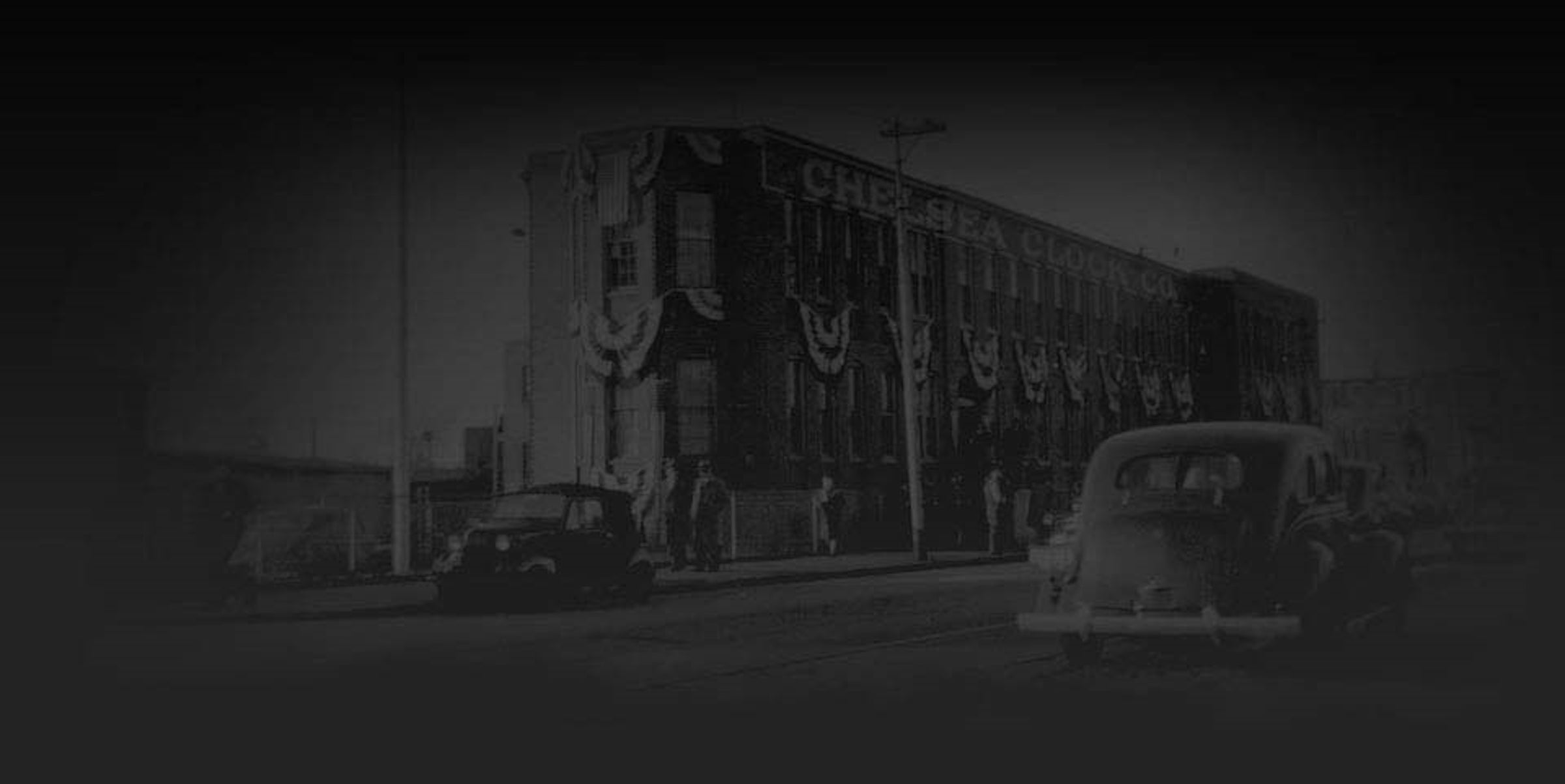 1880

1900

1910

1920

1930

1940

1950

1960

1970

1980

1990

2000
1880
Chelsea's initial roots were unsteady, with its name changing from "Harvard" to "Boston" then "Eastman" Clock before finally settling as the Chelsea Clock Company. Despite the rocky start, groundwork for the finest in American clock making was firmly established via innovation from the country's earliest clock craftsmen.
1884
Original Advertisement from Boston Clock Company.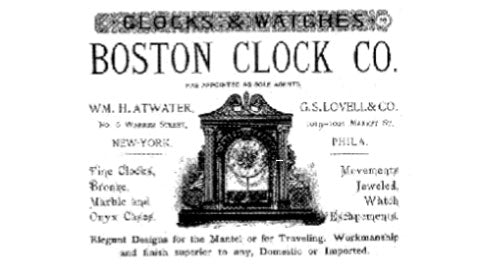 1897
Boston Clock is sold to Charles Pearson and renamed Chelsea Clock.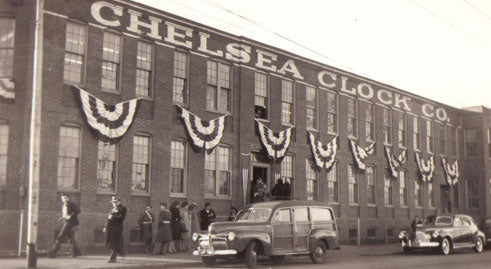 1900
First Ship's Bell mechanism is designed and patented.
1900
Early Chelsea dealer James Bliss & Company in Boston.
1900
Chelsea brand begins to gain recognition in the market as innovative clock designs are patented and introduced, relationships with distributors are formed and markeding via print advertisments and catalogs emerge. By 1905 Chelsea had established distribution in every major American city.
Early 1900s
U.S. Government agencies begin to order marine clocks.
1902
Ad in Country Life promoting the Ship's Bell.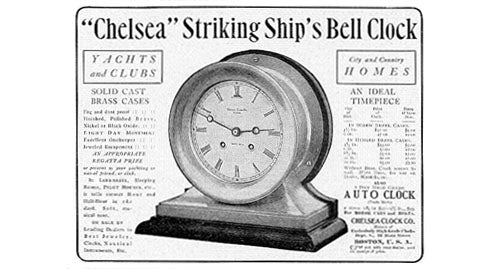 1903
Automobile clock production begins for Rolls Royce.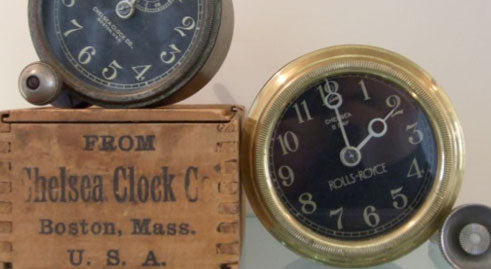 1906
Chelsea Clock Company publishes the earliest known catalog.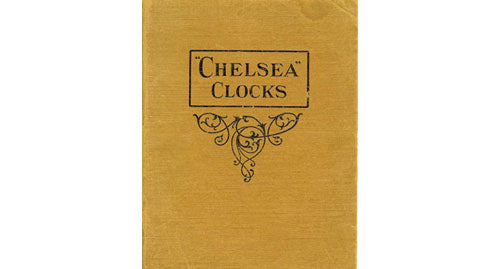 1910
Chelsea Clock continues to receive orders from U.S. Gevernment Agencies for marine clocks in increasing quantities - as a result Boston Clock was formed (a separate brand for clocks the company manufactured to meet government standards).
1911
Walter Menns patents the Chelsea Automatic Ship's Bell Clock.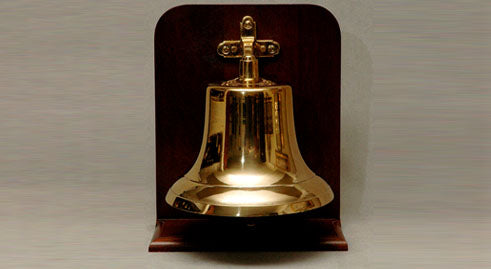 1914
Advertisement featuring a Ship's Bell along with candle sticks.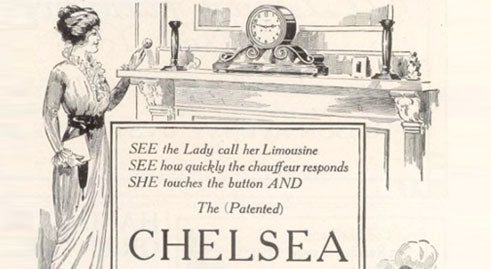 1917
The popular automobile clock was modified for airplane installation.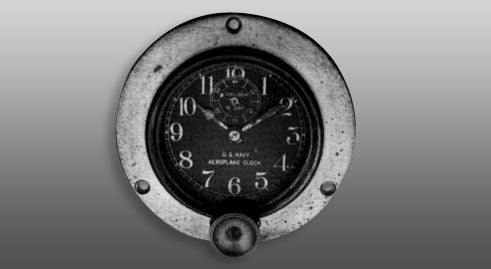 1920
One of Chelsea Clock's Oldest Dealers. Wilfred O. White, seated at desk.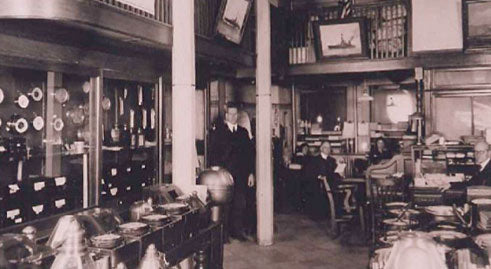 1920
As the country enjoyed a period of growth and prosperity, consumers continue to buy clocks as household necessities. By 1929 competition for clock manufacturing was aggressive - an estimated 56 companies engaged in the manufacturing of clocks and clock movements, an increase of 50% compared to prior decade.
1922
Early Chelsea Price Notice advertising 12½ discount off of Clocks.
1928
William Neagle assumes ownership of Chelsea after Pearson's death.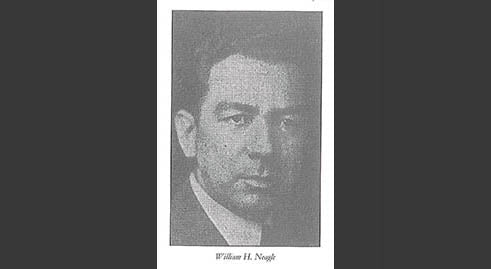 1930
Electric clocks are produced to satisfy growing customer demand.
1930
Drastic inventory and cost reductions were made in the face of dire economic conditions resulting from the Great Depression, which enabled Chelsea to remain viable while many competitors were forced into bankruptcy.
1934
Airplane Clock, produced for the U.S. Navy in 1934.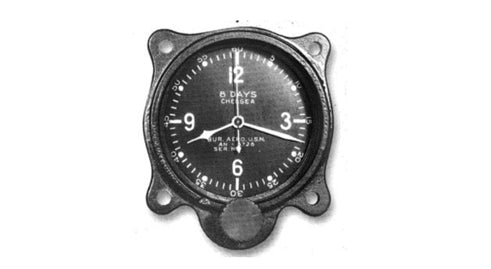 1936
Thank you from Admiral Byrd for clocks used on South Pole expedition.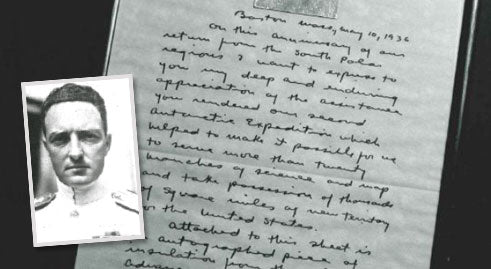 1940
War Time Catalog highlights military clocks made during the war.
1940
Government orders during WWII helped offset declining sales.
1940
During Wold War II Chelsea lives up to its reputation as "Timekeeper of the Sea", producing more in four years than entire production since 1897. At this time Chelsea was singularly focused on furnishing thousands of clocks to the armed forces for use aboard Liberty ships, Submarines, Destroyers, Cruisers, Battleships and Aircraft Carriers.
1943
"E" award presented by the Gov't for wartime production excellence.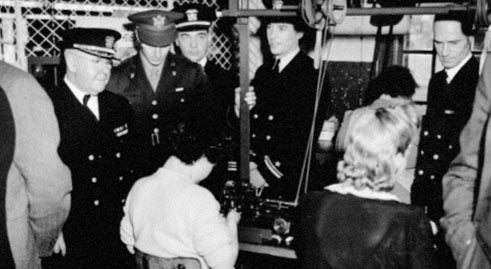 1945
Neagle retires and sells Chelsea to longtime employees King & Mutz.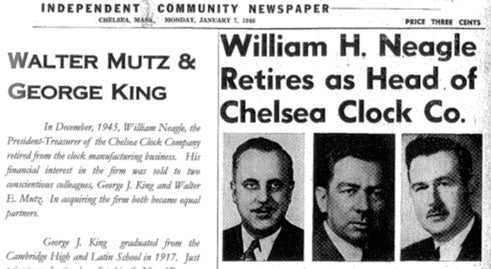 1948
Newspaper Ad placed in the Oakland tribune featuring Chelsea.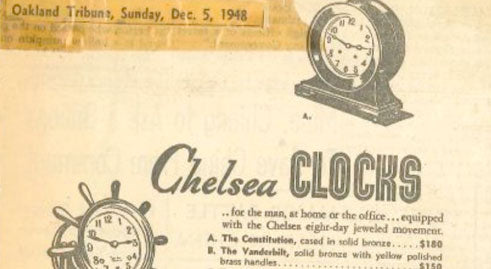 1953
A Chelsea Mariner is presented to Boxing Champion Rocky Marciano.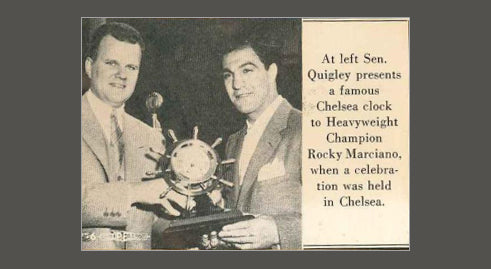 1950
Ad placed by Shaefer Brewing using a Chelsea to make a statement.
1956
A Chelsea presented to General MacArthur during his campaign tour.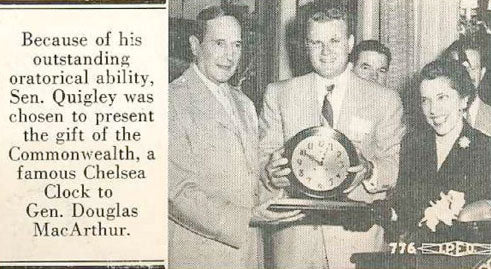 1957
Ad in Esquire featuring Chelsea amidst other luxury house wares.
1960
Bob Hope accepts a Chelsea award for his humanitarian efforts.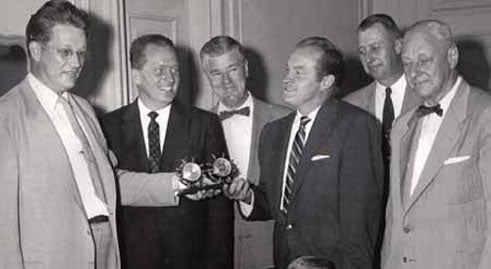 1960
At one time Chelsea competed with dozens of clockmakers, including Waltham and Seth Thomas of New England. Soon assembly line methods undercut demand for precision timepieces, and the market was further weakened by the introduction of electric clocks, quartz technology and foreign imports. By the late 1960's Chelsea stood as America's only maker of precision spring-driven clocks.
1961
Branding evolved from Timekeepers of the Sea to Aristocrats of Time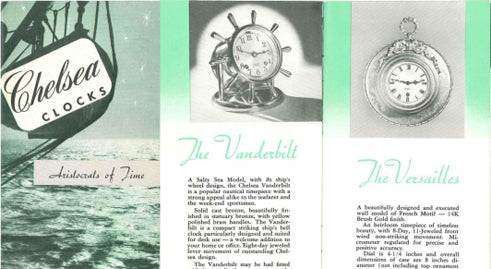 Early 1960s
Kennedy administration meeting with a Claremont on the shelves.
Early 1960s
Aristotle Onassis with his Chelsea Claremont Clock.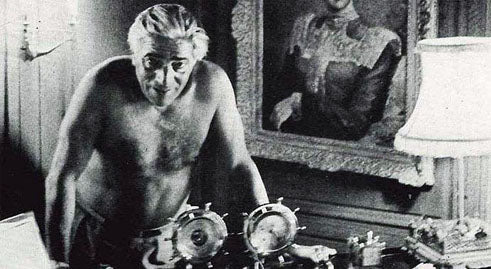 1969
President Lyndon Johnson watches a NASA liftoff, along with a Chelsea.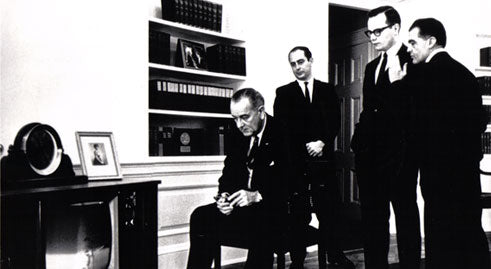 1970
Chelsea Clock undergoes a peiod of change as ownership of the company transitions from Mutz and King to Automation Industries, to Bunker Ramo Corporation and finally is sold to Rick Leavitt, a native Bostonian who ultimately runs the company for 27 years.
1972
Chelsea in a holiday ad from dealer Shreve Crump & Low.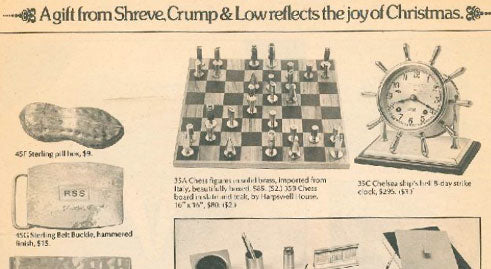 1975
President Ford in his study, where a Chelsea rests on the mantel.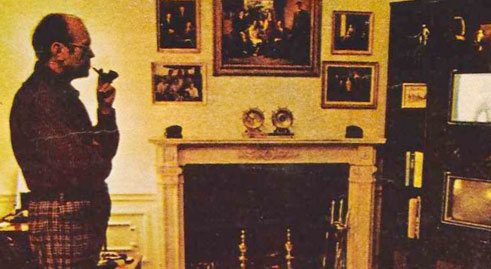 1975
Chelsea is granted a patent for the Tide Clock mechanism.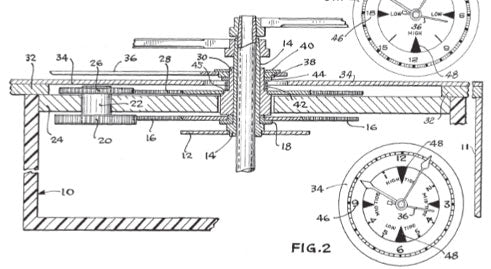 1979
A Chelsea is gifted to the Pope during his visit to Boston.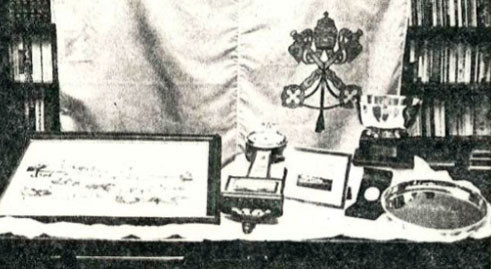 1980
Competitions for quartz technology increases, and Chelsea introduces dozens of new designs to retain a leading position in the market. Leavitt requests intervention from US Customs and Massachusetts Attorney General's office to halt counterfeit production of Chelsea Clocks in Taiwan.
1980s
Production room with clocks on test at Chelsea Clock's factory.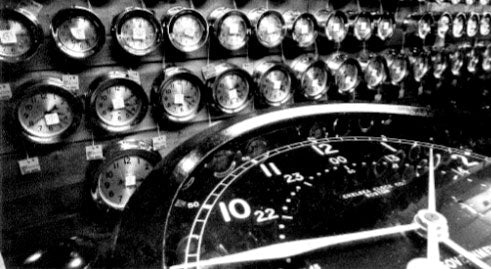 1982
Reproduction of the Terry clock as part of Williamsburg Series.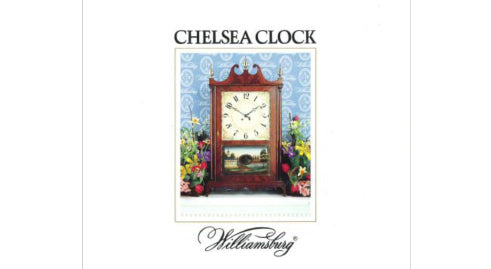 1986
Boston Globe features Chelsea's 100 yr old approach to clock making.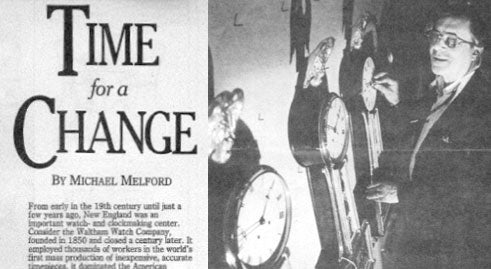 1990
The introduction of limited edition clocks was successful after the 1980's economic recessions and Leavitt expanded on the theme.
1994
Harrison Ford in Clear & Present Danger; a Ship's Bell is shown.
1994
Ship's Bells presented as awards at Boston University Alumni Night.
1997
Chelsea celebrates 100 years and introduces the Centennial Clock.
1997
Limited edition clocks made to commemorate the USS Constitution.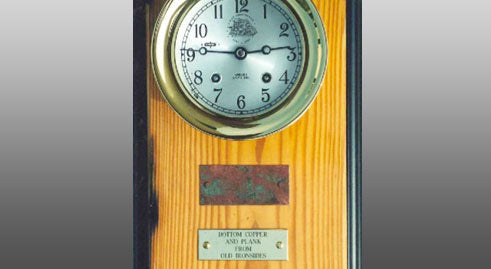 2000
After leading Chelsea for more than 25 years, Leavitt steps down and sells the company to JK Nicholas, a business consultant, entrepeneur, and longtime collector of Chelsea Clocks. A new executive team is established.
2006
Chelsea found aboard the USS Saratoga, air craft carrier from 1920.
2009
President Obama selects the Dartmouth to gift dignitaries while abroad.
2012
President Bush presents a Chelsea to Turkey's president Ahmet Necdet Sezer.
2015
Chelsea moved into a new upgraded factory building.
2021
American History and Chelsea Clock Featured in White House History Quarterly.
In keeping with Chelsea Clock's long presidential history, the prestigious journal White House History Quarterly featured Chelsea Clock. The theme of the issue is "As Time Goes By: Historic Moments in The Life of The White House." One of our instantly recognizable clocks is prominently displayed on the cover. This clock was custom made for the White House. Chelsea craftsmen worked closely with White House designers to create this special clock to hang above the entrance to the First Family's living quarters.