Personalized Corporate Gifts - Retirement, Awards, More
Make it personal. That's one of the secrets of success for businesses, whether you're providing customer service, putting together an order or purchasing a business gift for your clients, colleagues or employees. Chelsea Clock knows this well, and that's precisely why we give you the option of engraving our high-end timepieces that showcase your commitment to excellence and appreciation of the recipient.
Customize any clock with your logo and an engraved special message that aligns with your sentiments. They make superb client gifts, thanking them for years of business. For dignified, one-of-a-kind corporate gifts, acknowledge colleagues and associates for their phenomenal efforts with a personalized heirloom clock. They are also among the best employee gift ideas for recognizing decades of service.
A Chelsea clock not only symbolizes valued time spent with an organization, but marks special moments – which is why they're ideal for everything from welcome gifts to retirement gifts.
ENGRAVED BUSINESS GIFTS THAT SPEAK VOLUMES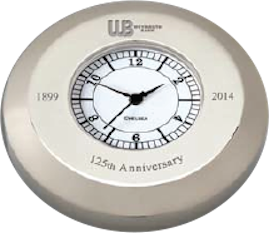 TIMEPIECES MARK MOMENTS AND MILESTONES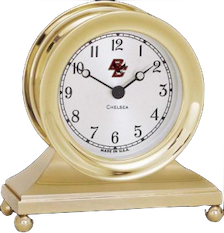 They can also be given as notable awards, whether as business awards, client thank-you awards or employee recognition awards. Engraved clocks make a memorable statement, not only for the current employee, colleague or client, but for years to come. Our luxury clocks come with generous warranties and the ability to withstand the test of both style and time.Chelsea Clock timepieces can be passed down and enjoyed for several generations. With their distinct hand-finished designs, they also never go out of style. Our vintage clocks often come with intriguing stories, and many serve as authentic reproductions of original Chelsea clocks that have been of service as long as we have.
Chelsea Clock has been America's premier clockmaker since 1897, and our timepieces have graced the offices and homes of U.S. presidents and other dignitaries. Strong design, precision movements and exceptional materials ensure they will continue to be cherished by many for years. Personalized messages enhance this sentimental value even more for all our timepieces.
That heartwarming gesture and premium quality are what you'll be giving to business associates, colleagues, clients and employees when you gift them with a customized Chelsea clock. Custom options include engraving on clock cases, engraving on plates and screen printing company logos on dials.
Please contact our sales team with any questions or engraving requests. Our goal is to make your corporate gift as special as the recipient. Shop our selection of personalized business gifts today.