World-Class Clock Repair and Restoration Services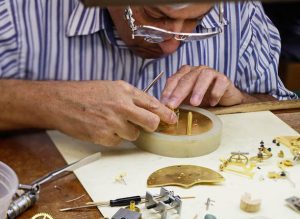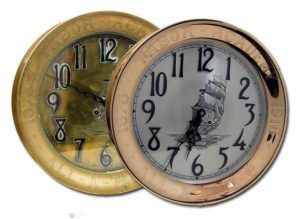 Should your clock be damaged, broken or in need of repair, entrust it to the staff of master clockmakers at Chelsea Clock. As America's oldest clockmaker and clock repair shop, we handle clock repair in Massachusetts as well as every other state in the U.S. Whether you need to restore a classic Chelsea clock or another clock that has been passed down from generation to generation, our team will expertly clean, repair and restore your clock.
For more than a century, Chelsea Clock has been servicing, repairing and restoring Chelsea clocks along with many other brands of heirloom timepieces, including mechanical, quartz and striking clocks from across the country. Our staff of master clockmakers provides a wide range of clock services right here in our facility in Chelsea, Massachusetts.
Services include routine maintenance, cleaning, clock repair and complete antique clock restoration. You can expect the following clock repair services when you send your clock in for repair:
Full-service clock repair
Routine clock maintenance
Cleaning, oiling and regulating
Case refinishing
Antique clock restoration
Chelsea Clock Can Diagnose and Address a Wide Variety of Issues
Due to their intricate moving parts and constant motion, clocks are prone to a variety of complex issues. Perhaps they fail to keep time or function properly, or fail to function at all. The expert repair team at Chelsea Clock can identify, diagnose and fix any of the most common problems, as well as unique or unusual clock problems you may be experiencing.
Our team of clockmakers will expertly restore your clock, preserving the original pieces and components as much as possible. In that case that specific clock parts do need to be replaced, these replacements will be handled with skill and attention to detail. In other instances, the clock may be restored with nothing more than a thorough and intricate cleaning or other such maintenance procedures. Whatever the solution to your problem may be, you can rest assured that we will handle your clock with the utmost care and do everything we can to restore the function and appearance of your timepiece.
Convenient, Quality Service, Backed by a Two-Year Warranty
Whether you're around the corner or across the country, you can entrust your valued timepiece to our Chelsea Clock repair service. Simply send us your aged, damaged or antique clock and our skilled clockmakers will thoroughly examine it and provide a free estimate, with no obligation. After your clock is serviced, Chelsea Clock stands behind it with a full two-year warranty on all parts and service.
While our team will need to see the clock in person in order to provide an accurate estimate, we can answer initial questions if you provide pictures and describe the issues with your clock. Our online contact sheet for submitting questions is available here or by clicking the "Ask a Question Before Sending in Your Clock" button below.
If you have a cherished clock you wish to have repaired or restored, send your timepiece to our master clockmakers and take advantage of our clock repair service here at Chelsea Clock.