The holiday season is a time to embrace traditions of togetherness, thoughtfulness and appreciation with friends, family members and business associates. Selecting gifts that are as meaningful as they are unique can present a challenge, and the bustle of the holidays often makes it all too easy to overlook the elegant essentials.
What better way is there to celebrate this time of year than with a classic keepsake clock gift from Chelsea Clock? Inspire a stately standard of living and gift your loved ones a meticulously designed clock, compass, tide instrument or barometer in 2023 that is destined to be treasured for generations to come.
Handcrafted, customized timepieces designed by Chelsea Clock have been intricately created in Chelsea, Massachusetts since we started making them in 1897. Chelsea Clock is considered America's Premier Clockmaker, having created pieces that appear in pictures of swearing-in ceremonies and cabinet meetings of U.S. presidents, including Harry Truman and John F. Kennedy. Personalized clock gifts from Chelsea Clock connect your recipient to a long history of craftsmanship and leadership.
Selecting a Meaningful Gift
We have prepared our 2023 holiday gift guide to assist in the discovery of timeless classics that showcase the love and admiration that parents have for their children, grandparents have for their grandchildren, and friends have for their closest confidantes and corporate peers.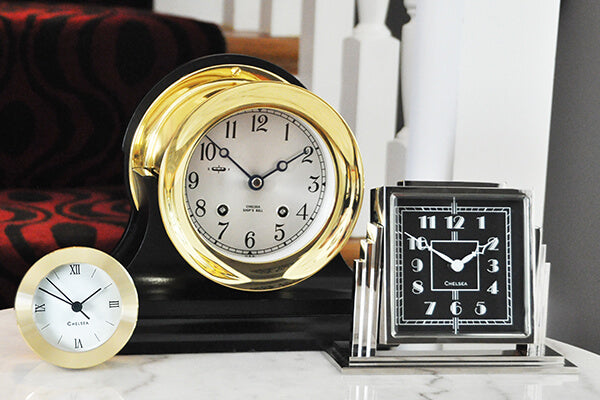 Bestsellers
Chelsea Clock's bestsellers are meticulously configured timepieces that include a 4.5-inch Ship's Bell Clock and Barometer in Brass on Double Base, which is forged from solid brass and placed on a base of rich mahogany. It's the perfect focal point for a newly christened boat before it sets out on its maiden voyage, but these gift desk clocks can be equally at home in a living room, den or home office.
The minimalist Duxbury Desk Clock in Nickel is a sophisticated desk clock that's made with clean curves and modern simplicity, then finished with nickel for the perfect look that is a classically refined and engraved clock gift for the recent graduate or employee of the year.
Each design combines precision technology with the craftsmanship and experience of professional American clockmakers who can forge cases out of solid brass, then hand-finish and lacquer the wood base.
Best Clock Gifts for Him
Men who have everything, including a beautiful boat, deserve to have a classic Chelsea clock mounted to the wall or on a desk or mantel. A handmade Chelsea clock is a unique gift for men who appreciate a tradition of timeless design and makes an elegant boat gift for dad as well.
A 3.5-inch U.S. Navy Constitution Clock in Nickel or 4.5-inch US Navy Presidential Clock in Brass with Traditional Base is a striking nautical gift for men who enjoy America's seafaring history or a seaman who was in the Navy. Personalize one of our clocks and create an even more meaningful engraved clock gift that's an exquisite centerpiece and serves as a dignified, heartwarming gesture during the holiday season.
Best Gifts for Her
Graceful clock designs with modern, sophisticated curves are a dignified way to tell a special woman that she's loved, as well as a reminder of your bond that she will see every day. Chelsea clock gifts are especially suitable for a 21st wedding anniversary, when a present of brass and nickel is the longstanding tradition.
A personalized Chelsea clock like the 3.5-inch Chatham on Black Marble Base or Square Desk Alarm Clock in Brass makes a dramatic statement and is a way to let Mom know she's appreciated. Gift a high-end clock from the premier craftsmen in America as a practical yet stately way of showing she deserves the best.
2023 Holiday Gift Ideas for Business
Chelsea clocks are recognized around the world and are the best way to celebrate corporate milestones during the holiday season. Express appreciation to employees, executives and clients with a personalized clock gift to commemorate achievements and a job well done.
The 3-inch Boardroom Clock in Brass is housed in a handsome, paneled solid wood case, hand finished in rich mahogany. The precision quartz movement features a solid brass case that pivots for easy viewing. It's packaged in a luxurious blue presentation box that sets it apart as a personalized gift idea for employees and clients alike.
The 4.5-inch Presidential Clock in Brass with Traditional Base is made from exceptional materials and has a rich heritage. It's one of the finest products of its kind available and makes a thoughtful gift for service awards and retirement. Personalized clock gifts also provide a warm welcome to new employees. Customize it for a personal touch by adding a company logo or engraved message. If you have any questions, you can discuss engraving options with us in further detail at no obligation.
2023 Holiday Gifts for Nautical Enthusiasts
Nautical enthusiasts recognize the value of a Chelsea clock and know their collection isn't complete without a Ship's Bell Clock. Since it was patented in 1900, this specialized clock was designed to assist mariners in keeping watch at sea. The bell chime coordinates with a mariner's bell code so that it's possible to tell time without seeing the clock, setting the standard for unique nautical gifts.
More than 100 years later, this clock is still the gold standard for anyone who loves adventure on the sea or ship décor. Each clock can take up to four weeks to produce because of comprising more than 360 unique parts. The patented Chelsea Clock 11-jewel movement must also fit perfectly in the hand-forged brass case, which our expert clockmakers execute with masterful precision.
Personalized clock gifts for boat owners that distinguish the recipient are an easy find with almost any Chelsea clock in our nautical timepiece collection. Customize your preferred clock gift with an engraved plate in brass or nickel to mark an important milestone or occasion that should be celebrated, like becoming a first-time boat owner.
Gifts for History Buffs
A vintage clock will appeal to all history aficionados, but those who have a fondness for the nautical history of America will appreciate the military clock collection. Featuring specially-designed clock faces for the U.S. Navy that are stately, dignified and refined, these gift desk clocks have been featured in ships during the momentous occasions of war.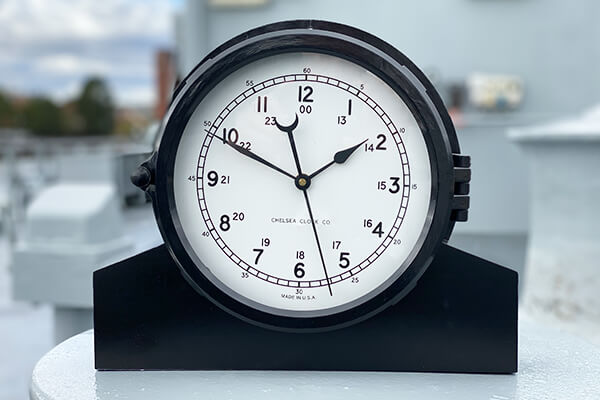 The 8.5-inch Patriot Deck Clock, Black Dial, is found on thousands of Navy vessels today and dates to the early 1900s, which simply proves it is high-quality craftsmanship at its finest. The 3.5-inch U.S. Navy Constitution Clock in Nickel was named for the U.S.S. Constitution, known as Old Ironsides, and was designed to capture the essence of the historic ship in all its grandeur. This coveted gift clock is for history buffs who will appreciate the U.S. Navy emblem on the dial and, if you prefer, a sincere personalized message to commemorate the 2023 holiday season.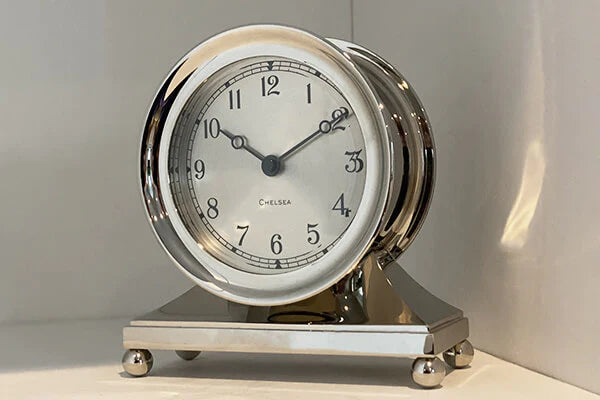 A gift doesn't have to be beyond financial reach this holiday season. Several Chelsea clocks are available for less than $300 and are a wonderful way to add some classic elegance and grace to any desk setting or décor, whether at home or on a boat. Each of our clocks carries the Chelsea Clock name as a mark of distinction synonymous with lasting quality.