Chelsea Clock is Proud to be Featured on "Task & Purpose" | 04/25/2017
We are proud and honored to have recently been featured on Task & Purpose, a news site for – and by – American veterans.Read article now.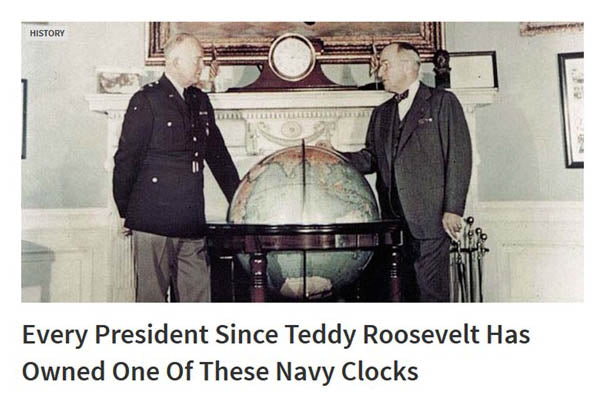 "Made in Massachusetts" Highlights Chelsea Clock | 04/18/2017
Doug Meehan, host of "Made in Massachusetts" (Boston, WCVB Chnnel 5) paid a visit to Chelsea Clock to see how we've been making time for more than 120 years. We are so proud and honored to have been a part of this special program.  Take a look.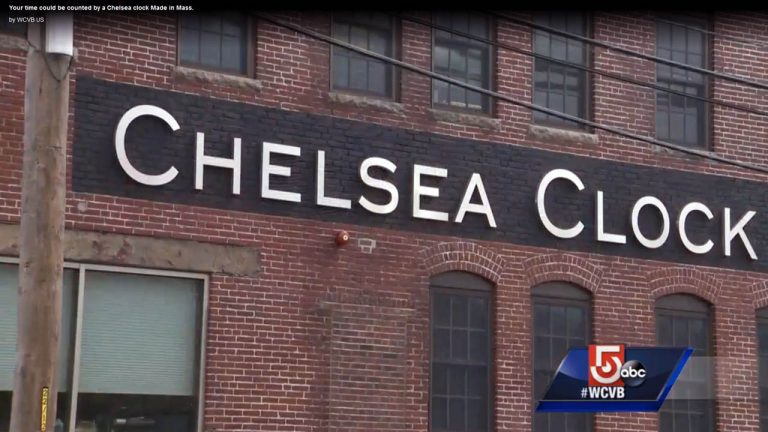 Chelsea Creates "Quest" – A Special Timepiece to Benefit Ocean Conservation | 11/21/2016
Chelsea Clock is extremely proud to have crafted a special mechanical timepiece for the silent auction at this year's second annual MaiTai Global Ocean Gala, held on December 3, 2016 in San Francisco, CA.
This contemporary timepiece is designed to celebrate both modern American craftsmanship and the 120-year anniversary of Chelsea Clock, the iconic American clock manufacturer founded in 1897. Crafted from Chelsea's classic materials of solid brass and old growth oak, this piece is updated with a high-tech anthracite coating and sits atop a ceruse finished base. The Quest boasts a newly launched 14-ruby jewel mechanical movement for superior timekeeping and endurance. It also features an etched dial and clock hands that are all painted by hand." Read more.
Chelsea Clock Trophies to Honor Annual Vineyard Race Winners | 09/01/2016
Friday kicks off the annual Vineyard Race, hosted by the Stamford Yacht Club each Labor Day weekend. For the 4th consecutive year we are honored to provide coveted Chelsea Ship's Bell clocks for select winners. Over the years the race…
Chelsea Clock Spotted on Jay Leno's Garage | 06/22/2016
For the uninitiated, Jay Leno's Garage is a web and TV series in which American comedian and television host Jay Leno, former host of the Tonight Show, performs live classic-car and motorcycle reviews out of his "Big Dog Garage" in Burbank, California. Recently one of our readers spotted a Chelsea clock on Jay Leno's Garage — in an episode that featured a 1913 Mercer Raceabout roadster. Chelsea began making automobile clocks a decade earlier around 1903, manufacturing top-of-the-line dashboard clocks for the likes of Rolls Royce, Packard, and Studebaker, among others.Read more.
St. Barths Bucket Regatta to feature Chelsea Clock Trophies | 03/16/2016
Participants of St. Barths Bucket Regatta set sail tomorrow, and five lucky winners will be taking home a handsome Chelsea Clock ship's bell trophy prize at the end of the weekend.
The first St. Barths Bucket dates back to 1995 and each year, a portion of each entry fee has been designated for donation to a close-to-home charity or non-profit in St. Barths. This year, the donation will go towards replacement boats for the St. Barths Yacht Club's Children's fleet, of which only 10 of the 17 aging boats are actually in service. The Bucket's contribution will provide 7 new boats to the fleet. Read more.
Local Photographer Nanda Rust Launches Chelsea Clock Exhibit | 03/07/2016
Tuesday evening a reception will be held at City Hall to kick off local photographer Nanda Rust's latest exhibit featuring Chelsea Clock.
City Hall stated in a press release: Now is your chance to gain an inside perspective through beautiful photography of one of the oldest and most beloved Chelsea businesses — Chelsea Clock! Local photographer Nanda E. Rust had the pleasure of befriending the company and has become their inside photographer. [The exhibit will showcase] images from the old building on Everett Avenue, the move of the facility, and an inside perspective of their new location on 2nd Street in Chelsea, [while featuring] portraits of employees, machinery, and the true workmanship Chelsea Clock has loved and maintained for well over a century. There will also be collectors showcasing limited historical Chelsea Clocks!
We're excited and honored to have been chosen as the subject behind Rust's lens. Read more.
Congrats, Quantum Key West Race Week Winners! | 02/17/2016
Quantum Key West Race Week kicked off late last month in Old Town Key West. It was the 29th year for the international regatta, this year hosted by Storm Trysail Club (the notorious host of Block Island Race Week) for the first time. For the past two years Chelsea Clock has been a proud trophy sponsor, and this year — our third — felt extra special. Read more.
Countdown to Quantum Key West Race Week | 01/14/2016
Quantum Key West Race Week kicks off this Sunday with the official weigh-in and welcoming reception held at Kelly's Caribbean Bar & Grill in Old Town Key West. The international regatta is in its 29th year and is hosted this year by Storm Trysail Club (the well-known host of Block Island Race Week) for the first time. Chelsea Clock has been a proud trophy sponsor for the past two years, and this year will be no different! Read more.
Yachting Times Magazine Highlights Patriot Deck Collection | 04/24/2014
Chelsea Clock is pleased to note that the Patriot Deck Collection was recently featured in the Spring 2014 edition of Yachting Times Magazine, America's bilingual boating publication. Click below to view the article online on page 12:
Yachting Times Magazine, Spring 2014
Top Sailors Compete for Chelsea Clock Mariner Trophy | 07/08/2013
On July 7, 2013, a select number of best-in-class yacht racers will compete for the chance to add their names to the coveted Chelsea Clock Mariner Perpetual Trophy in the 35th Biennial Marblehead to Halifax Ocean Race (in conjunction with the Annapolis to Newport Race 2013). Chelsea Clock is pleased to once again be one of the official trophy sponsors of this elite event, which challenges racers on a 363-nautical-mile course from Marblehead, Massachusetts to Halifax, Nova Scotia. Race entrants in the Marblehead to Halifax Ocean Race and the Annapolis to Newport Race in the IRC, PHRF, PHRF Cruising Canvas or Double-Handed divisions will be eligible to compete for the Chelsea Mariner Trophy. First-, second- and third-place keeper trophies, also created by Chelsea Clock, will be awarded in each of the four divisions.
Announcing the New Voyager Series | 06/07/2011
Chelsea Clock Hosts Small Business Roundtable Along with Governor Deval Patrick | 04/01/2010
Chelsea Clock Company, along with Governor Deval Patrick, hosted a small business round table discussion on the topic of rising health care costs at the Chelsea Clock Headquarters in Chelsea MA.
A dozen local companies attended the meeting to discuss recent actions the Governor has taken to help reduce the cost of health insurance for small businesses and working families.  Governor Patrick, the owner of a Chelsea Clock, arrived in advance of the meeting to tour the manufacturing arm of the factory and see in person how the company continues to handcraft heirloom quality time pieces after 113 years of continuous operation.
Chelsea Clock Appears in March/April Issue of Yankee Magazine | 03/01/2010
"The Timekeepers…Some of the best and most famous clocks in the world come from Chelsea, Massachusetts."
The Pilot Clock Featured in November issue of W Magazine | 11/02/2009
The Chelsea Pilot Clock was featured in the November issue of W Magazine in a style segment emphasizing all things marine.
Click here to view the article online.
Chelsea Clock Receives Interactive Media Award for New Website | 09/04/2009
ChelseaClock.com, designed by Alexander Interactive in New York, wins the Interactive Media Award for best in class website in the manufacturing category.
Vice President Biden Selects the Boardroom Clock for Trip Abroad | 07/31/2009
The Boardroom Clock was selected by Vice President Biden in July as a custom gift for dignitaries on a recent trip to Europe with his wife. Each of the 20 clocks that were purchased for the trip were engraved with Vice President Biden's signature.
Chelsea Clock Honors Navy At Pentagon | 07/30/2009
JK Nicholas, CEO of Chelsea Clock and Anthony
LaChapelle, COO attended a private dedication ceremony at the Pentagon along with Chief of Naval Operations Admiral Roughead where 3 customized Chelsea clocks were presented honoring the Navy personnel involved in the successful rescue of Captain Richard Phillips of the Maersk-Alabama from the Somalia pirates.
A Willard Banjo Clock, Circa 1982: When Old Becomes New Again | 07/29/2009
For most people who love the form and elegance of the Willard patent timepiece, current high prices make the acquisition of top-of-the-line examples difficult indeed. Because of a collaborative effort among the Chelsea Clock Company (CCC), Colonial Williamsburg (CW), and the Kittinger Furniture Company, however, there was an attempt in 1982 to re-create one of America's most beloved horological forms. See Article
Antique Clock Gets Makeover | 06/12/2009
"Science has yet to decipher how to go back in time, but for one local resident an heirloom clock does just that. Every time Archie Rasmussen looks at his 1910 Chelsea mantel clock on his desk, he drifts back to the past. The Chelsea Clock has sat on the handcrafted desk of his grandfather, his father and now his…."
Admiral Richard Byrd | 04/09/2009
Chelsea Ship's Bell Clock from Admiral Richard Byrd's famous flagship, The City of New York, featured at the Time and Exploration Exhibit at The National Watch and Clock Museum. The exhibit will be live from April 23, 2009 – December 31, 2009.
Chelsea Honors Capt. Phillips at "Maritime Man of the Year" Ceremony | 03/20/2009
Capt. Richard Phillips, the captain taken hostage by pirates off the coast of Somalia and then freed by the Navy in April, was honored with the "Maritime Man of the Year" award at Massachusetts Maritime Academy on May 20, 2009. JK Nicholas, CEO of Chelsea Clock, presented the captain the award, a Chelsea Ship's Bell clock, during the ceremony to recognize his leadership and selfless courage.
The Obama Administration Offers Chelsea Clocks as Gifts | 03/09/2009
The Obama Administration has selected 25 Chelsea Dartmouth clocks, customized with the Presidential seal and his signature, to offer as gifts abroad during his first trip to Europe as President of the United States.
8½" Chelsea Ship | 01/09/2009
A Classic 8½" Chelsea Ship's Bell was chosen to keep time on the USS G.H.W. Bush, the United States' newest and final aircraft-carrier of its kind (CVN-77). The massive vessel measures 1,092 feet long: nearly as long as the Empire State Building is tall.