Expert Repair & Restoration For Boston's Finest Clocks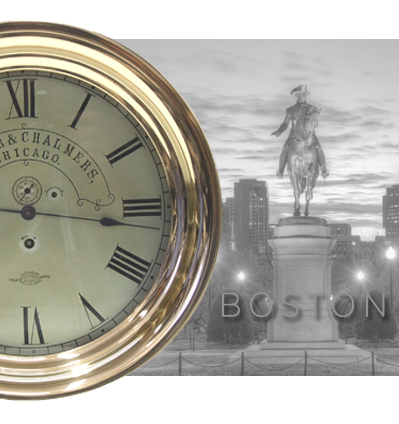 From America's Oldest Clockmaker
Since 1897, clock owners and collectors from Boston and around the world have entrusted their fine timepieces to Chelsea Clock. Our master clockmakers provide a wide range of repair and restoration services for vintage Chelsea timepieces as well as other luxury clock brands, including rare instruments from the Boston Clock Company, which preceded Chelsea Clock.
You don't need to travel far to experience the finest antique clock repair in Boston – we are located less than five miles from Boston Common. Mail us your clock or arrange for drop-off directly at the same factory where we handcraft our heirloom-quality clocks.
Chelsea Clock repair experts apply their experience and superior craftsmanship to every timepiece they service. Our services include routine maintenance, oiling and regulating, case refinishing and full restoration. We also do Boston barometer and tide clock service.

• All makes and models of mechanical and quartz timepieces
• Professionally handled and packed for return shipment
• Guaranteed services from certified master clockmakers