A Chelsea clock is a wonderful addition to any home or office and now it's more affordable than ever to own a fine clock or give a luxurious gift. With special direct-from-factory prices online for some of the most beautiful, unique clocks and barometers in our collection, you can easily find an heirloom that will be cherished for generations.
Limited Edition Clock Discounts
Shop now for impressive direct-from-factory savings on several limited edition, handcrafted Chelsea Clock timepieces. These rare chronometers will impress anyone who lays eyes on them, and you'll only find this special pricing online for the following clocks:
6-Inch Mariner Clock (Was: $5,500; Now: $3,950): This vintage Chelsea clock has a case modeled after an original yacht wheel and is considered one of the finest American nautical clocks ever produced. Lending both a stately and nautical air, this timepiece features our chiming Ship's Bell mechanism and the solid brass bezel opens with the original hinge-and-latch design.
The Pilot (Was: $4,500; Now: $3,250): This timepiece has the same design as The Mariner but is made for wall display. A classically hand-silvered dial gives it a refined look, and the 364 precision brass parts and an 11-jewel movement behind that dial provide accuracy and lasting quality.
Andover Classic (Was: $5,300; Now: $3,950): With gold-plated numerals and a base made of hand-finished walnut and forged brass, this gorgeous clock adds a stately atmosphere to any room. It uses the signature Chelsea Clock Ship's Bell chiming mechanism to keep time on a hand-silvered 8.5-inch brass dial with elegantly-detailed hands.
The Centennial (Was: $4,500; Now: $2,850): This 6-inch mantel clock was first produced to celebrate our 100th anniversary. Like the Andover, it also has gold-plated numerals. We've added a gold-plated reveal centerpiece that lets you peek at the precision mechanical clock movement beneath.
The Quest (Was: $4,500; Now: $2,750): A modern stepped base made of cerused oak and a durable powder-coated finish highlight this unique timepiece. The Quest uses our 12E precision mechanical movement. This includes 12 synthetic ruby jewels that act as bearings and an 8-day wind for longer accuracy.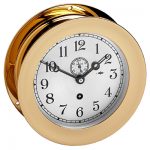 6-Inch Harbor Master (Was: $2,800; Now: $1,950): This time-only version of the Ship's Bell uses a special 16E mechanical movement first introduced in the early 1960s. It also has a slimmer profile that still makes an impression. Other features include a "fast and slow" regulator switch and a separate seconds bit below the 12 o'clock position.
Ship's Bell Clocks & Barometers
If you've wanted to own a vintage Chelsea Ship's Bell Clock or Barometer, this is your chance. Our exclusive pricing direct from factory extends to select Ship's Bell clocks and barometers too, including:
8.5-Inch Ship's Bell Clock in Brass (Was: $4,200; Now: $3,550): This larger-than-life version of our classic mariner clock will dominate a room or boat cabin with efficient elegance. It has everything people love about the Ship's Bell, including our signature chime mechanism and an accurate 11-jewel movement, in a size that really stands out on a wall or desk.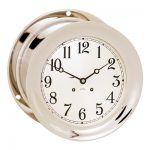 8.5-Inch Ship's Bell Clock in Nickel (Was: $4,600; Now: $3,900): If you prefer a more contemporary look for your Ship's Bell Clock, this is the right one for you. It has a nickel-plated case that helps protect against corrosion so the 364 precision brass parts and mariner's watch chime can operate with pristine looks.
8.5-Inch Ship's Bell Barometer in Brass (Was: $2,950; Now: $1,750): This companion nautical instrument gives you accurate weather readings in upscale style. Track atmospheric pressure changes and predict the coming forecast using an accurate holosteric movement. A reveal center lets you see this movement at work.
8.5-Inch Ship's Bell Barometer in Nickel (Was: $3,250; Now: $1,950): Foretell the changing weather by land or by sea just like on our brass barometers — only with the beauty of a modern nickel-plated finish. We can factory-adjust barometers for attitudes of up to 5,000 feet so the hand-silvered dial gives you the correct readings.
Each product has a generous warranty and ships free in the U.S. Order now for special direct-from-factory prices you'll only find online from America's Premier Clockmaker since 1897.